EVENTS & EXHIBITIONS
Everything started with Flippaper, a pinaball came from outerspace that enable you to draw your favorite game on paper with color pens, and instantly play it. After a few exhibitions, it won the public award for the best interactive installation at TIFF DigiPlaySpace in 2016. Then the magic keeped on amazing people and showing its potential to link people together, through really fun and constructive moments.
Now we regularly organise interactive events in the field of art (opening parties, exhibitions) or communication (team building, commercial booths).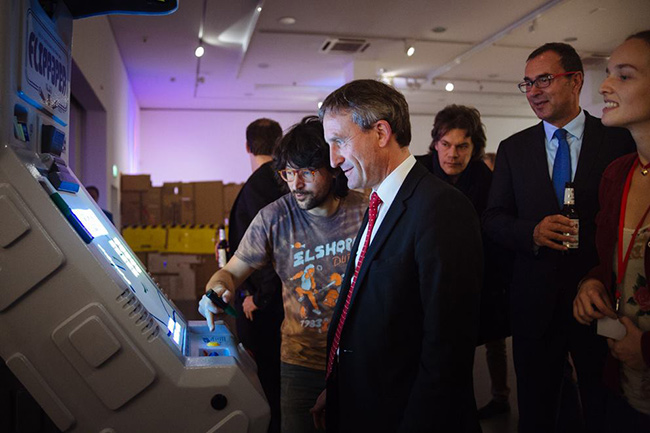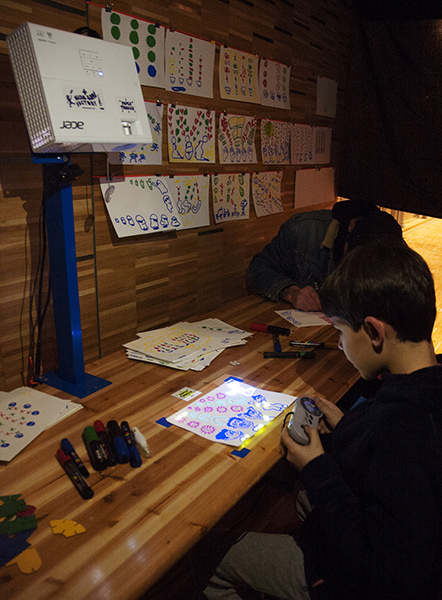 WORKSHOPS & EDUCATION
From children to professionals, we teach interactive design and creativity through a totally unique physical approach to interaction. It's social, fun, and totally mind constructive.
For creative professionals, it's cool to challenge yourself or team up to design a really fun working game, as you'll have to use your scenarist, artist, and technical skills at the same time.
At an expert level, we can also hold deeper creative workshops involving coding a new project (with Papertronics library for processing) and building a physical project, as we did with Eniarof at NRW Forum, Dusseldorf.
We also have a Papertronics Kit, including all the hardware and software needed to organise an event or a workshop.
DESIGN & INTERACTION
Papertronics aproach is totally linked with the physical experience, and we love to link people together in a fun and intuitive way. We often put as much energy in the interaction design as in the physical object itself.
Thanks to Papertronics core "PTX SYSTEM" we can develop a wide range of applications and products based on color and shape recognition. Special requests for clients are welcomed !